Our values
Окружающая среда
Safia заботиться о будущем
Семья
Сохраняя семейные ценности делаем жизнь людей праздником
Инклюзия
Равные возможности для всех
About us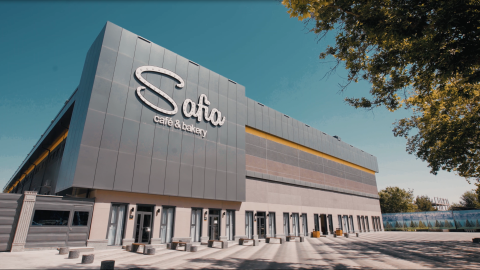 our-history
Safia's pastry shop chain is a family business whose history began with amateur pastry chef Muhayo Ayupova. Her hard work and love of home baking prompted her to go beyond the family kitchen in 2001 and start baking for sale, first for relatives, friends, and neighbors. Her husband, Akmal Ayupov, supports Muhayo's creative endeavors and organizes the finished products' delivery.
In 2007, Mukhayo Ayupova's daughter, Madina Akmalovna, opened her first home bakery shop. She inspires by the family's successful experience and implements her ideas, recipes, and taste. Thanks to her culinary experience and pastry skills, the pastry shop's products have become what they are loved and known for: tasty, beautiful, and high quality.
Over time, Shahzod Alisherovich, one of Madina Akmalovna's sons, joins the work on developing the bakery network chain. He organizes the bar's work in the branches and performs as a material and settlement accountant's duties. At the moment, Shakhzod is a company's financial director, who has created an efficient economic model and automated the company's accounting.
Madina Akmalona's husband, Alisher Samikjonovich, is in charge of all construction and repair works of branches and workshops. Thanks to his golden hands and ingenuity, the units became so elegant and cozy.
In 2015, Madina Akmalona's son Bekzod Alisherovich joined the family business. After completing his studies in Europe, he introduced new ideas and concepts to confectionery. The brand «Safia», named in honor of the youngest niece, is transformed into a network of coffeehouses with a wide variety of hot and cold dishes, in addition to the famous pastry.
Thanks to a shared contribution to development, the company begins to grow, and the first pastry shop opened. Pastry chefs with European experience recruit and local pastry chefs are sent abroad for training. Thanks to this, the range of baked goods expands to 450 products.
Soon, a bespoke service will launch to create exclusive cakes with unique decorations.
In 2018-2019 - 12 branches open in different parts of the city. A catering service is being launched.
We are proud that only 7 years have passed since the opening of the Safia brand and in this short period of time more than 50 branches have already been opened in the city, including 3 of the largest confectionery houses in Uzbekistan: Andijan, Fergana and in Kazakhstan. And the number of employees exceeds 2,000 people - professionals in their field.